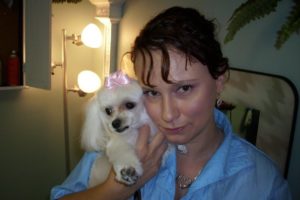 How a childhood obsession with animals turned into a lifetime career as a pet groomer… and now the author of The Fuzzy Butts Blog.
Hi! I'm Krista, and as far back as I can remember, I have fallen in love with every animal I laid my eyes on!  I grew up on a Morgan horse farm in Upstate New York. My Mom was a home-based dog groomer, and I spent countless hours as a child in the grooming shop watching her work, and helping when I got old enough. Eventually, my childhood obsession with animals turned into a lifetime career as a pet groomer. My first "real job" out of high school was as a groomer in a neighborhood grooming shop. I have been grooming ever since. I now have more than 20 years experience grooming professionally. I have worked in shops owned by dog show judges and master groomers, soaking up all the knowledge I could. I have recently retired from full-time grooming after 6 years as the sole groomer employed in a veterinary hospital in Southwest Florida. Working at the veterinary hospital expanded my knowledge base beyond grooming and taught me so much about incorporating grooming with animal health. God has truly blessed me with a career that I love and enjoy. I want to share my knowledge with pet owners, like YOU, so that you can save money on grooming and veterinary bills, strengthen your bond with your pet, and improve your pet's overall health and well being. I could seriously look at, and talk about, dogs and cats until I'm blue in the face(and most days, I do just that!) So, that is how the idea for this blog came to be. I hope you enjoy it and learn from it. I look forward to your comments and questions! Click here to contact me.
Don't miss out!
Subscribe below to be notified of new posts and tutorials, and to receive my free newsletter for subscribers only!