I have a confession to make. I have been known, on occasion, to bake cookies for my dogs. Yep, I'm one of those crazy people who cook for their dogs. 🙂 In my defense, these homemade Pumpkin Doggie Treats with Peanut Butter Glaze are so much healthier than most of the stuff you buy at the store. I mean, have you looked at the ingredients on a bag of dog treats lately? Most of them are loaded with chemicals, preservatives, and cheap fillers. My dogs go crazy for these treats, they're fun to make, and they're good for them, too! It's a win, win situation all around. If you decide to make these treats, let me know what your pup thinks of them!
Continue reading to learn how to make homemade Pumpkin Doggie Treats with Peanut Butter Glaze…

Ingredients for Pumpkin Doggie Treats with Peanut Butter Glaze:
1 cup canned pumpkin puree(Be sure it's not pie filling.)
½ cup  creamy peanut butter
2 large eggs
¼ cup coconut oil
2½ cups of whole wheat flour
1 tsp baking soda
Glaze:
2 Tbs melted coconut oil
¼ cup creamy peanut butter
How to make Pumpkin Doggie Treats with Peanut Butter Glaze:
Preheat oven to 350 degrees.
Lightly grease a cookie sheet and set aside.
Combine pumpkin, peanut butter, eggs, and oil in a bowl and mix together until combined. Add in baking soda and whole wheat flour and mix together until a stiff dough forms. Knead the dough right in the bowl, with your hands, until the flour is well incorporated.
Lightly flour your countertop, and roll out the dough with a rolling pin. Use a cookie cutter to cut out dog bone shapes. If you don't have a cookie cutter you can just make little round cookies with the top of a glass or a biscuit cutter. Around the holidays, I like to use my Christmas cookie cutters to make little Christmas trees, snowmen, and stockings! Adorable!!! 🙂
Place your cookies on your cookie sheet, leaving a little room between each cookie.
Bake in your preheated oven for 15 minutes.
To make the glaze, whisk the melted coconut oil and peanut butter until very smooth. Drizzle over the treats and cool in the fridge until the glaze hardens.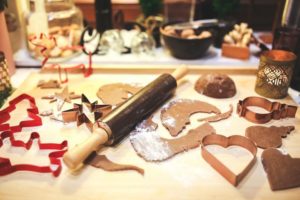 Read next: Dogs and Chocolate: A Dangerous Combination!
Author:

Krista

Krista Lawson is a freelance writer, editor, proofreader, and blogger. Her blogs include: The Fuzzy Butts Blog, Goose Creek Homestead, Be Your Own Barista, The Good News of Jesus, and The Super Mom Gazette. She offers writing, editing, and proofreading services, as well as blog and social media management. View all posts by Krista